Courses
SAAM PRECISION TRAINING
SAAM Courses
SAAM PRECISION TRAINING COURSES
Our SAAM Instructors will help improve your shooting and/or hunting skills in realistic situations out to 500 yards. You will learn the effects that ballistics and the environment (elevation, wind, temperature) have on your weapons and ammunition and how to compensate for those effects on our shooting ranges from 100 – 500 yards. Our ranges are situated throughout the FTW Ranch and simulate the types of pressures and environments that may be encountered on a variety of hunts throughout the world.
Expect to spend a great deal of time in many challenging shooting scenarios and positions, adjusting for environmental conditions and surroundings to know when you can and more importantly cannot make the shot. You will become adept at observing your immediate surroundings and utilizing items in those surroundings to support your body position while getting ready to make a shot – old stumps, rocks and tree limbs can be quite useful.
These courses are perfect for rifle calibers ranging from .223 to .338. Each 4 Day course fee includes five nights and four days of lodging, meals and beverages at the FTW Ranch. Gratuities, rifle rental, ammunition and transport/lodging to and from FTW Ranch are not included. Please see SCHEDULE for available dates.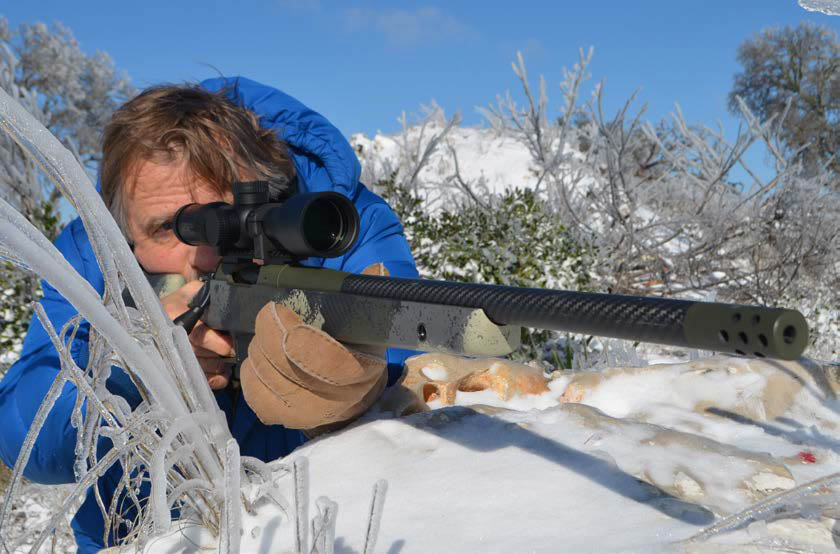 4-DAY SAAM PRECISION COURSE • $4,450 per person
You will receive 40 to 50 hours of intense marksmanship training and have the opportunity to shoot 240+ rounds on many of FTW Ranch's fourteen ranges. This course is perfect for any level of shooter, novice to expert, and new or experienced hunters who would like to maximize their shooting abilities while using their scoped rifles and own ammunition. You will leave the Precision Intense Course amazed by the new skills you have acquired. Our SAAM Instructions have designed the SAAM Precision course for all who seek to enhance their marksmanship expertise and who would like to become a better shooter and hunter by understanding your level of competency.
4-DAY SAAM ADVANCED • $4,450 per person
Due to popular demand, our SAAM Instructors developed an advanced course for SAAM graduates (either Precision or Safari) who would like to elevate their shooting skills to even higher levels, break in their new rifle and/or prepare for their next big hunt. The SAAM Advanced course begins by quickly summarizing the basics of SAAM Precision Intense and Safari and then shifts to concentrated field, ballistic and environmental work. In SAAM Advanced, you will explore moving targets, extreme wind calling over varying distances, glassing and spotting scope training, and target acquisition training.  SAAM Advanced builds off the skills learned in SAAM Precision Intense and SAAM Safari, and each SAAM Advanced graduate possess an even greater knowledge about his/her own capabilities and their equipment's potential – enabling them to be even more confident in the field.
4-DAY SAAM / HUNT COMBO • $4,450 per person
This course is designed to allow students to hunt on the FTW Ranch and receive 18 to 22 hours of SAAM Precision Intense and/or SAAM Safari training. The first day consists solely of SAAM training. The remaining days are split between SAAM training midday and hunting in the mornings and evenings. This course is perfect for students who would like to sharpen their skills by hunting and training at the same time. During the hunt, students are able to apply the skills learned and practiced on the range earlier that day – seeing immediate results. You will have the opportunity to shoot approximately 140 – 160 rounds on FTW's ranges. Be prepared, this Combo course is a very fast paced and intense 4 days. Trophy fees and hunting seasons do apply, so please refer to FTW RANCH TROPHY FEES for additional details.
PRIVATE AND CUSTOM SAAM COURSES
If you are in the market for a course designed specifically for you or your group, we are happy to accommodate you. Please contact FTW Ranch directly or your agent for scheduling, pricing and additional information. With groups of 12, the FTW Ranch training facilities and lodge will be available for your exclusive use. Private SAAM courses provide a great opportunity to tailor a class for your group's specific needs and are perfect for corporate or family groups desiring privacy.
SAAM 2-DAY PRECISION PREP • $3,450 per person
This course has been created to be a condensed version of SAAM Precision Intense.  It is designed for SAAM graduates who would like to sharpen their skills and train before the next hunt or stay tuned up year after year, or for those individuals who may be extremely time limited.  Our SAAM Instructors cover the principles of marksmanship and environmental effects, both in the classroom and out on the range. You will receive 2 full days of hunter preparation and plenty of range time with your rifle, scope and ammunition.  Plan to shoot about 120 – 140 rounds during the course.  The Hunter Prep fee includes two days, 3 nights of lodging, meals and beverages at the FTW Ranch. Please refer to the SCHEDULE for availability.
Custom Features
Any Private SAAM Course may be upgraded to include requirements for the Texas Hunter Safety Certificates and the Texas Concealed Handgun licensing course (non-residents may also participate – please refer to WWW.TXDPS.STATE.TX.US for further details).
WHY SAAM PRECISION IS RIGHT FOR YOU
BECAUSE YOU ONLY HAVE ONE FIRST SHOT
You may be wondering why you should invest in a SAAM Precision Intense course. SAAM provides exceptional training and cheap insurance, especially if you are going on your "hunt of a lifetime" (i.e. Sheep Slam, Elk, Pronghorn Antelope). You certainly want to be confident in your abilities to make a clean, accurate shot.
Our graduates rarely, if ever, tell us about the "one that got away!"
The following questions have been designed to help you conclude that SAAM Precision is right for you.
Do I know my distance limitations with my gear and skill level to ensure I can harvest my quarry in one, clean shot?
Do I know my exact bullet drop out to my distance capabilities?
Do I know how to read all stages of the wind out to my hunting distances (including, in between me and my target) and how to adjust my shot placement for the different variables?
Do I know how to compensate for elevation and temperature changes where I hunt? (Very important for hunting sheep/goats at high altitudes)
Do I know how to use my gear and items found in my environment to situate myself in a rock-solid shooting position in any hunting situation?
If you answered NO to ANY of these questions, or if you just want to make certain you are at your best, you should seriously consider SAAM Precision training before you go on your next hunt. Besides, not only is it exceptional training, SAAM courses are a lot of FUN.
SUMMARY OF SAAM PRECISION TRAINING
SAAM Precision has been designed so that you will learn the following tactics and skills as they relate to hunting:
How to maximize your own capabilities and your equipment's potential in real world hunting situations.
Many new shooting positions and how to become more stable in positions you may already know and use (i.e. kneeling, sitting, off shooting sticks or the tree you're hiding behind).
How to read the winds at your target, in addition to the winds in between you and your target, and how to compensate for such winds and other environmental factors.
Ways to use your surroundings to your advantage and how to work with your Guide or PH to improve the success of your hunt.
Your limitations – when you can and cannot make the shot in any given circumstance, making you a more ethical hunter.
How to set up quicker and make shots confidently by utilizing our realistic targets, ranges and courses.
How to clean your rifle and determine how cleanliness affects the accuracy of each shot, which is very important for first shot accuracy.
Many different techniques that may be employed in the field – not just "The Way". We teach you a variety of tactics and you decide which method suits you best!